20 Simple Life Goals Anyone Can Do
Every year, people set New Year Resolutions in hopes of improving their lives. They set goals like losing weight, paying off debt, or even spending more time with their families.
Most of the time, we set these high goals because we have a lot of good intentions. But when we fall short of those goals, we often feel like failures. And are often less to ever set goals in the future.
But what if you tried setting some easily attainable goals? Would you be more willing to mkae a list of goals, if they were easy to achieve? Maybe it sound like taking the easy way out. But in reality, most experts will tell you to start small.
(Set a goal of treating yourself! FabFitFun is a great, affordable way to spend a little self-care on yourslef).
When you set small and simple goals, and achieve them, you are more likely to work your way towars to larger goals. So here are 20 super simple life goals that even the busieest person can achive.
There isn't a mom out there who can't implement these easy life goals!
Easily Achievable Life Goals
1. Set a REALISTIC Budget.
If you don't make a lot of money or live paycheck to paycheck, you most likely are not going to pay off all your student loans and live debt free in the next few months. But it is possible if you just start soemwhere.
Start with planning a realistic budget. Save a small amount of money or pay off one credit card. Start small and when you achieve your first goal, set a new one and keep going.  There are several apps that can help with money management for any kind of budget.
2. Donate Household items.
Donating good can help others as well as yourself! It also helps you to clean out your house and get rid of unwanted or unneeded items. Cross off two goals by cleaning out your closet and donating anything you haven't worn in the last year.
Have a ton of extra plates or lamps you don't want? Look at your local facebook groups for single moms starting over who may need items to start a new life and donate items to them.
3. Eat Healthy One Day a Week.
Diets are often the biggest goal we fail at. Everyone tries to lose weight, but so little are successful. Does that mean you shouldn't try? Of course not!
Mostly because when we diet, we go cold turkey. No more sugar, no more sweets, carb free… blah blah blah.  It never works. So pick one day a week, like a Wednesday, and vow to eat healthy that ONE day.  
If you succeed, start doing TWO days a week, and go from there.
4. Find a Better Way to Sleep
Try something simple that will make you feel better. Go to sleep just a little earlier. Try to wake up at the same time each day. Get yourself new bedding to make yourself more comfortable.
Or try using a sleep spray and refrain from electronics an hour before you go to bed. There are several ways you can make small changes to your sleep cycle and feel more refreshed every day.
5. Clean One Area of Your Home
Try not to go overboard and clean and organize your entire house. The amount of work to be done will seem so overwhelming, you'll give up right away.
Start by selecting just one room or just one closet. Clean and organize that one area. When that's done, you'll feel so good about it, it will make you want to move on and do more. Don't put a mountain of tasks ahead of you before you even start.
6. Don't Text and Drive
This much and SAFE resolution is something that we should all do. So make it a goal and resolve not to do it! It doesn't require any time or money. Make yourself and everyone around you a lot safer. And then BAM, you just achieved another life goal!
7. Start a New Skill
You don't need to master a new skill. Almost no one can master an entire skill in a short amount of time. But anyone can start somewhere. It's simple and easy to find tutorials on almost any topic online these days.
Want to learn photography skills? A new language? How to cook better? Or attempt a watercolor painting? You can find beginning lessons for these and many others on Pinterest or Youtube. All free! So no excuses.
8. Cook a Meal Once a Week
You can tell you're a mom when you set a goal to cook more often for your family. It not only saves money but gets families around the dinner table and spend some time together. With work, kids sports, household chores, and other daily tasks… this goal is often hard to achieve just due to time restraints.
So try to pick just one day a week where you plan a meal, make it, and sit down together to enjoy it.  And then go for two nights a week if you can.  But again, start small. One meal a week is better than nothing because 7 days a week was too hard to keep up you're.
9. Drink More Water
It is recommended that you drink at least a half gallon of water every day. I'm lucky if I get one cup in. I'm just not a fan of water. I love my diet coke too much. Every time I've tried to give up diet coke and drink 2 liters of water a day, I fail!
Don't give anything up cold turkey. Aim for drinking less soda. Try to increase your water intake by a glass or two. Remember small steps!
10. Take a Vitamin
In attempts to make yourself healthier, try taking a daily vitamin. They even make adult vitamins in gummy form! Go to a local health food store and talk to someone there.
There are so many vitamins out there that we don't even know exist. Find something that helps accomplish another goal. You can grow your hair, sleep better, or have better skin. There are so many vitamins out there that can do anything!
11. Explore Your Home Town More
Travel is at the top of everyone's bucket list when it comes to life goals. But time and money can quickly put an end to that dream. Start small with your trips. Plan weekend road trips to different areas around your state.
Or try staying home and explore the next town over. Find a new restaurant. Go to the small museums around town. Find a new hiking trail. Chances are, your city has more to it then you thought it did.
12. Start Working Out
Get weight loss out of your mind. Try something that involves fitness, like lifting weights or participate in a 10k mud run. Try just starting something new. Make it a goal to just GO to the gym, once or twice a week.
Want to be a runner? Make it your goal to run once a week. You won't be marathon status anytime soon, but you won't give up right away by setting a goal too hard to achieve.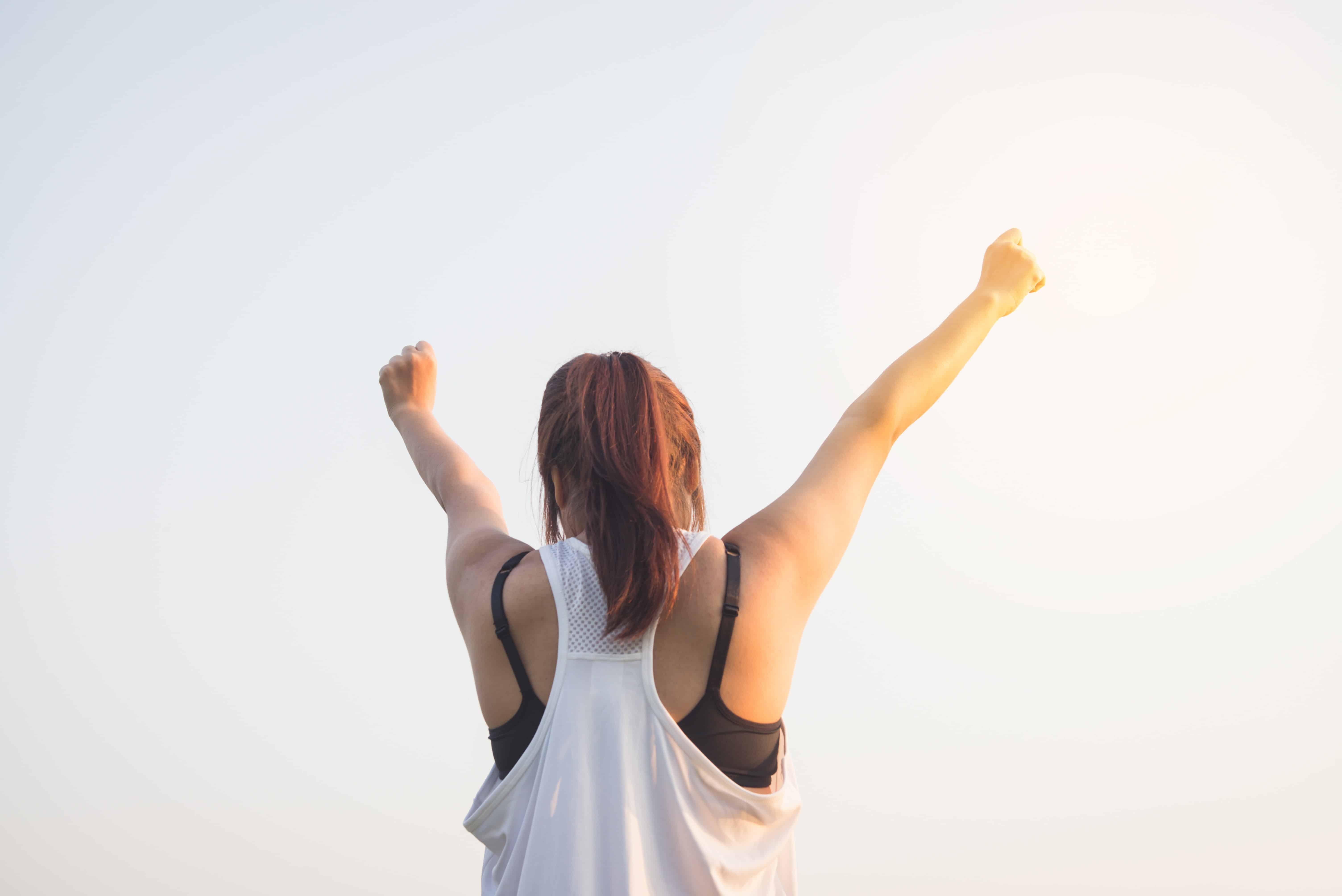 13. Schedule ME Time
I cannot stress how important this is for any mom. Who doesn't need a little more time to themselves? I know it can seem almost impossible if you have kids, but any amount of time will help.
Give yourself a half an hour at night after they go to bed. No chores, no electronics. Just 30 minutes of time all to yourself.
14. Be Positive More Often
It is so easy to get caught up in negative thoughts and feelings, especially when trying to keep up with world events. Not many people like to hear the good news much so we end up sharing all the negative stuff. Try avoiding that talk. For everything negative you say, say two positive things in return.
15. Make Your Bed Daily
This simple task takes less than 5 minutes and can have a drastic effect on your mental well-being. I started this about 2 years ago and it has been a game changer to my mornings.
A nicely made bed gives the appearance of a tidy room. Doesn't matter what the rest of the room looks like, if the bed is made then it all looks nice! Every night you come in a go to bed, you see a tidy room and automatically feel less anxiety about the household tasks surrounding you.
16. Pay it Forward
Buy a drink for someone the next time you go to Starbucks. Or add an item from the person behind you at the grocery store to your bill. Small everyday tasks will make you feel better and make someone else's day. If we all did this, what a change we would bring to the world.
17. Give a Compliment Daily
It doesn't need to be big. It doesn't need to be unconvincing. Find something small. Do you like your co-worker's shoes? Tell her! Shopping at Target and see a hairstyle that really looks good on someone? Tell them! Get over your initial shyness and just try it. Think of how you would feel if you got a random compliment… and pass that feeling on to someone else.
18. Learn How to TAKE a Compliment
Here is a goal for every woman in the world. Stop putting yourself down. If someone says you look thin, say "Thank You" and nothing more.When you get a compliment on something you worked hard at, accept it. If you get complimented on something you barely had control over, still say thank you.
19. Change All Your Passwords to a Goal
Everything we do online these days comes with passwords. Make your password something you want to achieve. Want to pay off a credit card by July? Change your passwords to"Payoffcreditcard07″. If you have to type it in several times a day, every day, you are more likely to achieve your goal.
20. Give Yourself More Credit
Have you ever met anyone who has a list of life goals and achieved everything on it? Yeah, me neither. So even if you set ONE life goal and achieve that, give yourself some credit! Most people cant even do that.